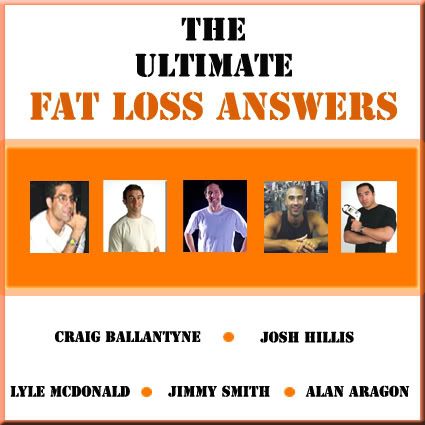 It's a 60 minute mp3 where they asked us all the top fat loss questions, and we all answered each questions. You'll be shocked at how much we agreed on.
If you've ever felt like there are a million different ways to lose fat and everyone is saying something different, you'll be blown away by this mp3. Put five fat loss experts together, five guys who all produce real results, in the real world, with real people – and what you find out is that they mostly agree on the basics of fat loss.
It come's with two bonuses:
Fighter Workouts For Fat Loss by Josh Hillis. (that's me)
It's a four week program of what I'd call "level 2" bootcamp workouts. It takes the same workout concept as my first book, and takes it to the next level. This 28 page e-book is nothing but workouts – if you just want the workouts, this is your book. It's 4 weeks of the most intense fat burning workouts you will ever do. This book is worth the price of the whole package.
Turbulence Training Dumbbell Bodyweight Fusion by Craig Ballantyne
I love the Turbulence Training Workouts, and I dig everything that Craig writes. The Dumbbell-Bodyweight Fusion book is one of my favorites in the Turbulence Training series. It's 38 pages and 8 weeks of workouts. If you've ever wanted to try out Turbulence Training, this is an awesome, awesome 8 week program.
It also comes with one other bonus – a nutrition interview with Dr. Chris Mohr, and if you sign up for the Ultimate Fat Loss Answers VIP Clients List after your purchase, you'll get two MORE e-books – another 4-week training program e-book by Craig and another e-book by me about how to squat and lose stubborn fat.
It's a pretty wicked deal for $27.77
It was an amazing roundtable call, and I was really stoked to be a part of it. Everyone on the call was amazing, and it was an amazing experience. I'd totally work with any of those guys again.
Josh
Get the Ultimate Fat Loss Answers mp3 and bonuses by clicking HERE