Sometimes people have a hard time grasping what I mean by "skinny fat".  It's the difference between losing weight and losing fat.  Here is a visual: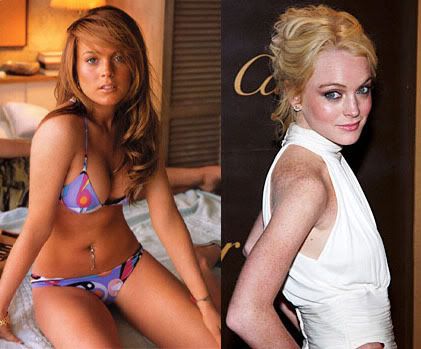 On the left is Lindsay Lohan circa Mean Girls.  She looks awesome.  I'd say she doesn't have any fat to lose, she looks like a rockstar.  Flat stomach, everything tight, and she still has breasts and curves.
On the right is Lindsay Lohan in 2006.  Clearly she's lost all of her muscle – all that she has left is fat.  Where did her breasts go?  Where'd her muscle go?  Seriously, she took something perfect and ruined it.  She's "skinny fat".  Or I could say "skinny gross".
I like to use Lindsay Lohan as an example because she is so recognizable, and had such a striking change that was so clearly unhealthy.  And also because she looked SO GOOD to start with.  These days she doesn't look quite that skinny, but she still just looks…  sick. 
Lindsay, I've said it before and I'll say it again – I'm a huge fan.   After you get what your issues worked out, If you need a trainer I can get you back to rockstar shape in about 8 weeks.
In my gym it's usually something like this – a girl who runs marathons who gets skinnier and skinnier but always feels fatter.  What's going on?  She's running so much she's going past the point of burning fat, and she's burning muscle.  She's burning muscle and holding on to fat.
The vegan who gets skinnier but keeps feeling fatter.  She isn't eating enough protein to hold on to muscle.  She's losing muscle and holding on to fat.
Most of my clients are working out already.  They are dealing with "stubborn" fat.  Sometimes the reason that the fat is stubborn is just because they are burning so much muscle. 
The answers –
1.) The marathon runner should stop marathon training (from a body composition perspective).  She should start training to run a really fast 5k.  Adding a couple days per week of strength training would also do wonders for her holding on to lean muscle.
2.) Have the vegan eat more tofu and tempeh and nuts than she ever thought was possible.  Protein.  If I could get some fish or eggs into her diet, that would be even better, but not necessary.   I use vegans as an example because for them it's a little more challenging to get enough protein.  If you eat fish, poultry, meat or dairy, you've got no excuse not to get enough protein  – Go eat some cow.
By Josh Hillis
Author of How To Lose The Stubborn Seven Pounds: Take Your Body from Good to Rockstar.
National Academy of Sports Medicine Certified Personal Trainer (NASM-CPT) and Performance Enhancement Specialist (NASM-PES),
Russian Kettlebell Challenge Certified Instructor (RKC)* and Combat Applications Specialist (RKC2/CAS)
*RKC certified 2004-2006, registered to recertify 2007

© Joshua Hillis 2007